EXCLUSIVE: The Easey Street Murders robbed two young women of their futures, a baby of his mother and a city of its innocence. Despite a million dollar reward, a coronial inquest and decades of media interest the case remains unsolved with no leads. There is a DNA profile held by Victoria Police that did not match any of the suspects investigated – except perhaps, for one. A name held in secret for over 45 years.
True Crime News Weekly can reveal that suspect is none other than the 'King of the Mountain' and one of Australia's most beloved sport stars, the now-deceased Peter Brock. Pierce Field investigates the cover-up and corruption protecting one of Australia's most infamous wife-bashers and his alleged role in the brutal stabbing of his former lover and her best friend.
January 1977. Melbourne.
For many, the late 70s in the Victorian capital are looked upon fondly. Residents experienced the community of a small town with the convenience of a big city. People would leave their doors unlocked, kids would play in the street till late and there was no real fear of intruders.
Dennis Lillee destroyed the Pakistani batters in the last test of 1976 at the MCG and Collingwood finished that year's VFL season with a wooden spoon. The Skyhooks and ABBA formed the soundtrack of many a backyard barbecue. For many in Melbourne, life was good.
Politically, Australia appeared to be in cruise control in the late 70s. The Fraser Years were in full effect with the Prime Minister's home state of Victoria in the final chapter of it's 26-year Liberal experience after the ALP was banished to the wilderness after imploding over Catholicism and communism in the 1950s.
But it wasn't a smooth sailing and easy living for others. This was an era where domestic violence calls went unattended by law enforcement.
An era of boys clubs and glorifying toxic behaviour, set against a backdrop of systemic police corruption which had resulted in the Victorian Police running abortion rackets and protecting paedophile priests.
But, for most Melburnians, they were enjoying the good life.
Then one morning, the city changed forever with the first report of the still unsolved Easey Street Murders. The brutal killings of 26-year-old Suzanne Armstrong and Susan Bartlett at their home in Collingwood stunned the southern capital.
It was no CIA assassination – rather a heinous attack on two innocent women with a knife.
And yet, to date, no charges have been laid, with no leads despite the $1 million reward on offer for information.
Forty-five years later, True Crime News Weekly can reveal that one of the suspects in this sickening act of violence and brutality was the 'King of the Mountain' and one of Australia's biggest sporting stars, Peter Brock.
The Crime and What We Know
Hailing from Benalla in country Victoria, Suzanne Armstrong and Susan Bartlett were two women enjoying their twenties in the big smoke.
Suzanne was a single parent doing her best to take care of her son Gregory, who was born in Greece to her former partner. She made the decision to return home to Australia after the heart-breaking realisation that it was bureaucratically impossible for her to marry a Greek man and her struggle to deal with orthodox attitudes to women in the Hellenic Republic.
Do you know more? Contact True Crime News Weekly here
Described as a stunning woman inside and out, Suzanne was determined to build a life for her small family in Melbourne and to save costs, she moved in with Susan in late-1976.
Susan Bartlett's career as an art teacher was flying. She had found her groove within her social circles and like her housemate, possessed a bubbly personality matched by her style and appearance.
They loved having people over for drinks and dinner and a boogie in the backyard – but they weren't massive party girls rocking around the clock.
Friends and housemates: Susan Bartlett and Suzanne Armstrong with her son Gregory (Image: Supplied)
Suzanne's social time was in hot-demand. Described as a charming woman with the beauty to match, she could hold a conversation with nearly anyone. It made her very popular with young men looking for their forever after.
Or, to some, because she was a single mum they thought would be an easy shag.
Helen Thomas' book Murder on Easey Street is an incredibly thorough examination of the case. Her work provides us with an insight of what may have happened on the night of Monday, 10 January, 1977.
That evening the household were in the living room with Susan's brother Martin and partner Vicki, getting ready to watch The Sullivans – an iconic Australian drama that dominated the airwaves in the late 70s.
SUBSCRIBE FOR MORE INVESTIGATIONS LIKE THIS
Suzanne received a call around 8.15pm and spoke with an unknown caller for about five minutes before putting baby Gregory to bed.
Martin and Vicki left at 9:00pm. It was the last time he would see his sister.
Only the killer knows what happens next, but from the evidence available it is possible to get an idea of what happened, when.
Late Monday night/early Tuesday morning, an elderly neighbour saw a man who did she not recognise washing a knife in the kitchen. The lights were on. It didn't raise alarm with eighty-something Gladys Coventry, who had a clear view from her kitchen table. She remarked that the stranger in the kitchen was now showing any urgency in the task he was undertaking. She thought it was one of the girls' friends.
Ten years later she disclosed to her new neighbour, she saw the same man leave the house with a knife.
Gladys Coventry's view into the kitchen of 147 Easey Street, Collingwood (Image: Supplied)
A young man named Peter Sellers, who lived a few doors down and had been hanging out with his friend Ray watching television, heard three distinct noises at 2:30am. He believed it to be a front door slamming, followed by two car doors slamming and a car speeding off.
Ray heard the same thing when Peter enquired with him Tuesday morning.
Fast forward to Wednesday night and Barry Woodward and his brother come by at approximately 8.30pm. Barry was a recent flame of Suzanne's and went around for a welfare check after she didn't return his calls – they were due to have dinner that night after catching up on the Sunday prior. The back door was wide open, they entered the kitchen and left a note – but did not see the bodies or hear baby Gregory.
RELATED: WHO KILLED MARY ANNE FAGAN? 44 years after the crime that shocked Melbourne, her killer remains a mystery
To complicate things further, ANOTHER two men entered the house that same Wednesday night. Enter the tobacco salesman and his 'mate'. The salesman, who was never named publicly, was an acquaintance' of Susan Bartlett's and was concerned she was not returning his calls. He thought he had the wrong number and decided to pay a visit after a few drinks.
With a hand from his 'mate', he jumped through Susan's bedroom window, walked through the house and checked he had the right number.
Apparently, he totally missed the two dead bodies and the unattended baby. He walked back to Sue's bedroom and legged it.
Peter's testimony backs this claim – he saw two men and a woman between 8.30pm and 9.00pm on the Tuesday night near the back lane. They parted ways – with the blonde man heading towards the lane and the woman heading to a nearby street. It is unknown where the dark-haired man went. Was this the tobacco salesman and his 'mate'?
Who was the dark-haired man? Was he returning to the scene of the crime?
The next morning, next-door neighbour Illona Stevens found Susan Bartlett dead in the hallway. She was stabbed 23 times in what police believe was her confronting the killer who had just killed her friend.
Suzanne Armstrong was stabbed 27 times and her lifeless body was raped by the killer who had climbed through her bedroom window.
Baby Gregory was in his cot, dehydrated and distressed. He would never see his mother again, nor had any idea she was dead in the next room.
The 'Investigation'
The police were called immediately, yet they took over 20 minutes to arrive. They had to be called twice before sending a young officer to check out the scene.
Two dead bodies and an abandoned baby were reported to Victoria Police in 1977 and their response was to send a pup to check it out.
This was the beginning of what can only be called a half-arsed investigation which, as history tells us, was the style of the time.
Thomas' book tells the story of the young detective who was one of the first on the scene from the Homicide Squad.
"As he scanned the front gate and veranda, and saw the bike with the baby seat strapped on leaning against the front wall, he was directed to enter through the back door.
Immediately, he knew the police assumption about what had happened in the little house was wrong.
From the get-go, the investigation was a sham. Detectives ignored Gladys Coventry despite her pleas. They never followed up Peter Sellers despite promising they would. There was no thorough doorknocking on Easey Street.
So confident were the cocky Homicide Squad, they thought they would have it wrapped up in a matter of weeks. It was a violent crime after all, involving necrophilia, therefore it must be a sick and twisted serial killer. Or was it someone they already knew?
Barry Woodward, who had just started seeing Suzanne Armstrong, was a prime suspect in the early part of the investigation and struggled for two decades to clear his name. He was eventually ruled out by DNA testing.
Police then moved onto journalist John Grant. Grant covered the police beat in Melbourne, working for the hard-hitting tabloid Grunter. A polarising figure in media circles, it's no secret that his scoops were as a result of rubbing shoulders with crooked cops and criminals over thousands of beers.
Grant was a prime suspect in the disappearance of 19-year old Julie-Anne Garciacelay in 1975. He had been in an apartment with Julie-Anne and two underworld figures known to police. He was eventually cleared by the police for the Garciacelay murder but endured reputational damage that he never recovered from.
It just so happened John Grant had stayed over at Illona Stevens house on the night of the Easey Street murders – the neighbour that called the police when she found the bodies and baby Gregory. How could he possibly be in the wrong place at the wrong time twice? A pretty easy link for the police to make without a whole lot of effort, and that's where their focus remained until he was cleared.
Eight names were on Victoria Police's suspect list for the murders of Susan Bartlett and Suzanne Armstrong, and whilst they have never been released publicly, Thomas' book states Grant, the Woodward brothers and the tobacco salesman accounted for four persons of interest.
She then goes on to reveal the next four: a disgraced police officer that was allegedly kicked off the force in the mid-1970s for sexually abusing women while on the job, a man that Suzanne Armstrong had dated before she left Australia and had Gregory, and another man police followed to the UK.
The eighth man was, as Thomas puts it, "a so-called 'champion sportsman', eventually identified as a racing-car driver, who purportedly knew Suzanne and had visited her at Easey Street."
That man was Peter Brock.
Peter 'Perfect' and Living in the Seventies
Peter Geoffrey Brock was born 26 February, 1945. He grew up in the now-Melbourne suburb of Hurstbridge.
Brock was by no means born into privilege. His father was a mechanic, whilst his mother looked after the children at home – a small hobby farm.
It was these humble beginnings that helped propel Brock to stardom. That, and his obvious talent for driving cars.
He won his first Bathurst 1000, Australia's biggest motor race, in 1972 at the age of 27. He went on to win the same race a further nine times in his career, with his final gong coming in 1987.
Brock was a marketer's dream. The dark-haired heartthrob was charming, down-to-earth, and had a capturing narrative: a small-town diamond in the rough, who's ability and work ethic made him a star.
The champion driver was one of Australia's hottest celebrities in the 1970s and 80s. He bought motor racing to a whole new level. It became mainstream.
Peter Brock in the early 1980s (Image: Supplied / Nine Entertainment)
Prime Minister Malcolm Fraser presented him with an Order of Australia (OAM) in 1980 for services to motorsports.
Men wanted to be him, women wanted to be with him. His wife and children adored him.
Everyone loved 'Brocky'.
Which is why when he died in a racing accident in 2006, the nation went into mourning.
Thousands lined the streets of Melbourne to pay tribute to Peter Perfect at his state funeral. Politicians and sports-stars alike spoke glowingly of the boy from Hurstbridge.
There were tears. There was celebration. There were accolades. That same Bathurst 1000 race now awards the 'Peter Brock Trophy' in honour of the champion's achievements.
Mourners watch the telecast of Peter Brock's funeral (Image: Supplied / Getty Images)
Today, Peter Brock is still regarded as one of Australia's biggest sporting icons. In a country that's often divided by football codes on geographic lines, 'Brocky' had national name recognition up there with Don Bradman and Ned Kelly.
But there was a dark side to the man dubbed 'Peter Perfect' that goes far beyond his heavily cultivated image as an imperfect hero.
It challenges the narrative pushed forward by Brock and his inner circle: he was heavy drinker and smoker before having a mea-culpa after a poor race campaign in 1986.
It was here he kicked the wicked ways of his past, ditched the booze, became a vegetarian and took up yoga.
Brock and those who were close to him are not shy in admitting he was a heavy drinker and heavy smoker.
RELATED: IVAN MILAT MAY HAVE KILLED MY GRANNY! The murder of Elaine Beverley King which police have failed to solve for nearly 50 years because of "systemic failures"
Nor do they hide he had a lust for women that didn't allow for pesky technicalities like marriage to get in the way.
This was a man that could handle a car at over 200km/h whilst still being able identify a couple of cuties in the crowd to chat up after.
Boys will be boys, right?
Brock was always his own man and he was aware of his brilliance. His self-belief was vindicated in the wild flurry of attention and money that came with professional sport in the 1970s.
He first raced with the Holden Dealers Team (HDT) in 1969 where he was mentored by one of the greats of motorsport in those days – Harry Firth.
Firth knew what he had on his hands here. After the plucky 24-year-old finished third on debut at Bathurst that same year, he went on to win his first crown in 1972.
Peter Brock, at the age of 27, won the race by himself. The last time anyone would. The cult of personality was born – a fusion of self-belief and god-like attention.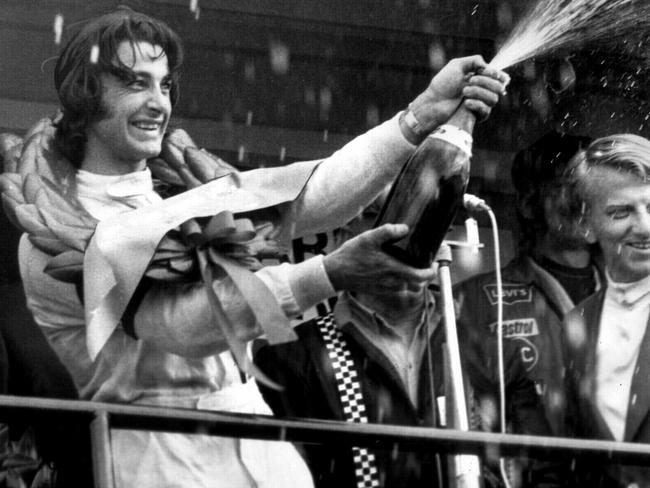 Peter Brock celebrating his first Bathurst crown in 1972 (Image: Supplied / Daily Telegraph)
The corporate dollar came knocking. Namely Phillip Morris International, a tobacco company that possessed iconic brands such as Marlboro and Benson & Hedges.
They were looking to crack the magically lucrative 18-49 year old market in Australia and believed 'Brocky' and Holden were the ones to do that.
And, why not? Advances in technology such as live broadcasts and the development of colour television made sport more entertaining and accessible to an already sports-mad nation.
Phillip Morris had an eye for these things. They developed a lucrative relationship with HDT and their poster-boy, cracking the domestic market a whole five years before World Series Cricket came onto the scene. Benson & Hedges jumped on board and cigarettes became synonymous with Australian summers for the next fifteen years – until new laws banned tobacco companies from sports advertising in 1996.
Thus began the era of the iconic Marlboro/Holden branding with Brock's name front and centre. It was brilliant marketing that would become synonymous with Australian culture. Every kid wanted a Brocky toy car. Every bloke wanted a box of Marlboro's.
Could this innocent merchandising partnership be linked to one of Australia's most brutal murders?
A Peter Brock collectable from 1974 (Image: Supplied)
The Lightweight Wife-Basher and Murder Suspect
Michelle Downes won the Miss Australia beauty contest in May 1973. The stunningly blonde 21-year old met Peter Brock six months later and the two fell in love.
They became Australia's first couple. The handsome race-car champion and the beauty queen were a made-for-TV match. Both of their careers were skyrocketing with Brock kicking off 1974 in style, winning the South Pacific Touring Series in February.
She had become the Seven Network weather presenter in Melbourne and the two wed in April 1974.
It was no private affair. The media interest was almost at Royal Family levels as their ceremony was broadcast live across the country.
Peter Brock and Michelle Downes on their wedding day in 1974 (Image: Supplied / Courier Mail)
Brock savoured the spotlight. Whilst he was god-like in the motor racing world at this stage in his career, he was still cutting through to the mainstream.
However, unbeknown to Michelle, Brock had allegedly bashed his first wife Heather Russell during their marriage between 1967 and 1969.
She discovered the dark-side of Peter on her honeymoon.
Interviewed by New Idea magazine in 2006, Michelle states the violence started on their honeymoon:
"I don't even remember what set him off that night," she said at the time.
"He pushed me around and threw me up against a wall. I remember sitting on the sand at 2am staring out at the ocean and crying my eyes out."
Michelle believed Brock was jealous of her own success. And whilst he loved the fame of being married to Miss Australia, his ego couldn't handle that he wasn't the centre of attention.
SUBSCRIBE FOR MORE INVESTIGATIONS LIKE THIS
Early on in their marriage, Brock demanded sex up to six times a day. If Michelle didn't consent – there was hell to pay.
She continued to go to work and be the cheery weather-girl for the network that glorified the husband she was afraid to go home to every night, with the Seven Network increasing its motorsport coverage at the same time as Brock's rise.
When he won a race, things were great. However, to say Brock was a sore loser is an understatement. He hated losing. Combine that with being an ability to get hammered after two beers and you get a vicious cocktail. Michelle stated in 2020:
Professionally, he had a terrible 1974 race season despite his win early in the year. He would take out his frustrations on Michelle.
"I was running down the street with Peter chasing me," she recounted the events after a loss to Fairfax in a 2006 interview.
"And with his full force he just grabbed me and threw me face down on the concrete. I was cut and bleeding."
Brock forced Michelle to have an abortion, leading to a suicide attempt in December 1974 after receiving a ferocious beating from her husband. She was rushed to hospital after attempting to overdose on sleeping tablets.
It became so apparent that Holden Driving Team pulled the pin on Peter 'Perfect' that same month. And it wasn't just his abusive relationship that was of concern – he was also egotistical and difficult to work with. It was his way or the highway.
RELATED – TRUE OPINION: Too Big, Too Rich, Too Famous
Rumours also circulated that Brock had cosied up to Phillip Morris tobacco to usurp the Marlboro sponsorship deal for himself.
Holden had enough, so Brock left. He joined a smaller racing team in 1975 and won the Bathurst 1000 for a second time, in what was a vindicating moment for him. The same year his marriage ended after meeting Bev Mcintosh.
It would be the last title he would win until 1978 once he reconciled with Holden and re-joined the Marlboro racing team.
1976 saw saw the launch of "Team Brock" which was effectively a disastrous run by his lofty standards. He soon realised he couldn't achieve what he wanted to without a massive chequebook behind him. Nor did he enjoy losing races.
Brock always had a dream to race internationally. With his domestic career stalling, he achieved that goal by competing in the world famous 24-hr Le Mans endurance race in France in June 1976.
The race was a hail-mary for Brock. He blew a head gasket on the first lap – akin to breaking your leg in the warm up of a World Cup final or an Olympic gold medal event.
Team Brock became an international embarrassment. It broke the two-time Bathurst champion.
And with his indiscretions well documented, you have a very angry man looking to take out his frustration at the world through his vices at the end of 1976. There were no teammates there to try and hold him into line.
This was the same year Peter Brock met Suzanne Armstrong in Melbourne.
Then, almost six months to the day of his loss at Le Mans, Brock became a suspect in the Easey Street murders. Yet he didn't rank high on Victoria Police's priorities. There was no interest in the bloke who was known to be a lousy drunk with a history of domestic violence.
It was the 1970s after all. Wife-bashers could get away with blue murder. And maybe, just maybe, one of the most infamous perpetrators of violence against women in Australia did.
This story cannot be justified in one piece.
True Crime News Weekly will soon publish an accompanying in-depth investigation which asks whether Brock's violence towards women meant he was capable of stabbing two young women to their death and raping a corpse? Are there other factors at play?
Why has it been kept quiet for so long? Was there a cover-up? Who covered it up? But wasn't there a DNA test that cleared him? Why was he still a suspect? Why does the Liberal Party get a mention?
Do you know more? Contact True Crime News Weekly here
Additional reporting and research by Gary Johnston and Serkan Ozturk